[@ 11.01.29.] Dr. Zsolt Nyitrai, Minister of State for Infocommunications on behalf of the Hungarian EU Presidency met Director Martin Whitehead and Joachim Haas representing GSMA Europe, association for the interest of mobile communications industry, on 26 January in Brussels.
At their meeting, the parties reviewed the priorities of the Hungarian EU Presidency in the field of telecoms and information society with primary focus on the two most important legislative dossiers. Firstly, the mandate and modernisation of the European Network and Information Security Agency (ENISA) and related to this, critical information infrastructure protection, another key topic during Hungarian EU Presidency term. Secondly, the Radio Spectrum Policy Programme (RSPP) and the preparation for ITU World Radiocommunication Conference.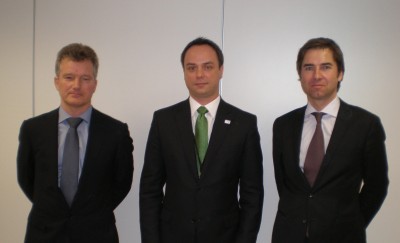 The GSMA follows with special attention the debate about the RSPP. Mr Whitehead emphasised that more spectrum would be needed for the rapid development of mobile broadband in the future, however, now the primary interest of the industry is the earliest adoption of the first RSPP.
The parties agreed that a programme, which creates the framework Europe-wide for the widespread development of wireless broadband and other spectrum based services for the benefit of European citizens and businesses should be swiftly adopted in close and constructive cooperation.